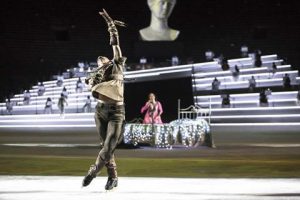 Sales launch will take place at the American Film Market next week.
London-based sales outfit Carnaby International has acquired worldwide sales rights to ice-skating film Intimissimi On Ice: A Legend of Beauty.
The company is set to screen promo footage from the filmed event at the American Film Market (AFM) in Los Angeles from next week, which will act as its official sales launch.
The film, which was shot at The Arena Di Verona in Italy and is part of the Opera on Ice series of events, is narrated by Andrea Bocelli and combines opera and figure skating.
It also stars Japanese figure skating champion Shizuka Arakawa, American ice-dancers Meryl Davis and Charlie White, and Canadian pair-skating duo Meagan Duhamel and Eric Radford.
Director Damiano Michieletto said: "Working on this project with such amazing talent and people from all around the world was one of the highlights of my career.
"The beauty of this show and the amount of people who worked hard to make it happen is unlike anything I have ever seen in my career. We're thrilled to be working with Carnaby to bring this incredible production to audiences worldwide."
Andrew Loveday, joint CEO of Carnaby International, added: "I'm proud to be working alongside such a talented team on this phenomenal special event. We're excited to bring this into the market."